1. What have competitor analysis tools you used?
This is one of the most basic marketing skills, but one of the most overlooked. For example, after analyzing paid marketing, feedback and team structure of a software company, you decided to invest thousands of dollars in creating a competitor.
Competitors' analysis shows where the long hanging fruits are in any market. The real skill is to interpret the data. You can look at the best opportunities in the world, but without the right knowledge of the marketing ecosystem, the numbers will be numbers.
A few of the tools we require the interviewee to know include SimilarWeb, Ahrefs, Serpstat , SEMrush and Alexa.
Then you expect them to read the data, seeing the possibilities that tell me they can represent the entire funnel. For example, if they don't see traffic from Facebook, they may find that it's not a proper channel for them.
However, an experienced marketer may notice that they conducted bad advertising campaigns on Facebook because the copies and images were not focused on the benefits of the product. They will see not an obstacle, but the opportunity to move from a five-digit startup to a seven-digit one.
2. What is your experience in paid communication?
If a candidate doesn't understand how to direct paid traffic to a landing page, the chances that he or she will find the opportunity from any analysis are greatly reduced. The two most crucial advertising directions today are Facebook and Instagram. The growth of the market with experience on other platforms is a plus, but since they are not so widely used, we do not pay much attention to them (for example, Reddit, Pinterest).
On a superficial level, I'm looking for a marketer who uses formulas to copy ads and has databases from which they regularly extract images. At a deeper level – looking for a marketer who has experience in trading strategies, device targeting, location, naming campaigns, Lookalike's audiences, and user audiences.
Then it's time to ask about the sequence of ads. This quickly separates newcomers from experts. You see if they can run flawlessly branded videos and commercials to get a lower price for leadership. A good sign is that they talk about remarketing video after watching a certain percentage of the time and using PR to warm up the audience before launching conversion ads.
Now that I know if they can launch ads, I am testing their ability to find new profitable audiences through social media advertising. We suggest a hypothetical situation where they have a product without a specific customer base.
Their work?
Find it through social media advertising without wasting a lot of money.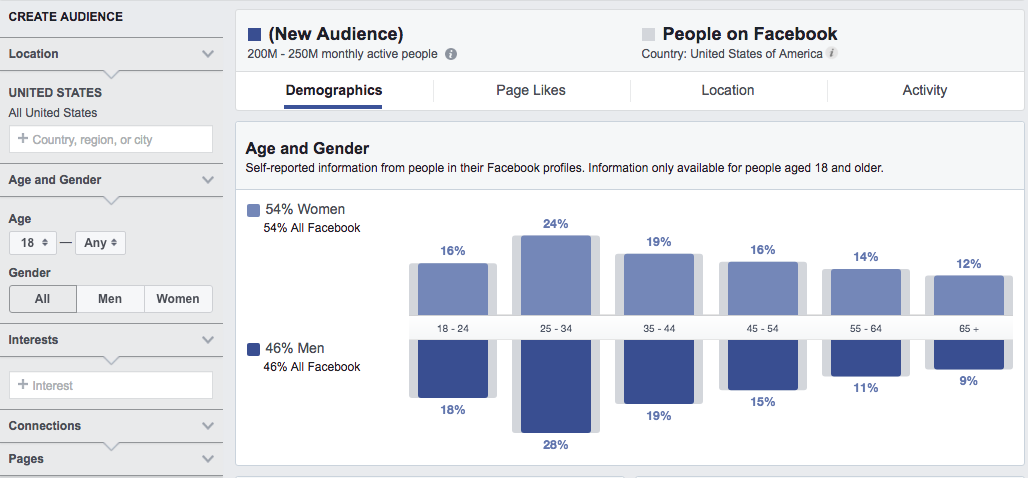 Here I'm looking for references to the use of tools such as Facebook Audience Insights, Google Analytics, Amazon Search, YouTube Search, and competitor analysis to help them identify this audience.
If they raise little-known resources, such as Kura's questions or even the expression "affinity rating", they earn bonus points. But all the bonus points in the world mean nothing if they don't have campaign attribution skills. This means using the URL building tool to track all paid traffic in Google Analytics. So you can say, "This campaign has led to this kind of treatment".
Finally, they need to understand where they can verify attribution in Google Analytics and how to set up the conversion window reported by Facebook.
3. Can you launch an effective Google AdWords campaign?
Google AdWords is the best friend of social media advertising. The reason is that your social media campaigns often affect the number of visits to Google's search engine. In other words, the more people hear about you on Facebook, the more likely they are to click on your Google AdWords ads.
One of the key attributes in Google AdWords is the correct use of ad groups. Most often, each ad group should have only one keyword. If they don't know about this, it's immediately alarming. I'm also asking about device targeting, location targeting, and trading strategies.
Then ask them about their philosophy in Google's trade names and terms. Go deeper into what they see as great opportunities to bid. One of the best strategists at Google AdWords knows that the ultimate goal is a quality conversion with a preservation perspective, but this usually takes time. Often AdWords campaigns aim to try to get to the site; then they redirect to Facebook to bring them back for final conversion.
This knowledge is essential because, knowing the ecosystem around the conversion process, an AdWords strategist can make more accurate bets that determine the revenue of the companies they work with.
4. What is your experience with Google Analytics and Data Studio?
Most marketers write in their CVs that they know Google Analytics, but often they don't. Google Analytics provides extensive knowledge of how your marketing campaigns work, from paid to organic. It will even show you how well your website pages are optimized for different traffic sources.
Start with your goals. Do they know how to set goals for transformation in analytics and implement Google Tag Manager? If they don't know how to apply them, it's a big, bad sign. This means that any targets, whether it's intercepting potential customers or turning email subscribers into paid customers, have never been appropriately tracked.
I'm moving on to more sensitive details, asking about excluding IP addresses, identifying botnet traffic and creating appropriate dashboards like in Google Data Studio below to keep track of my company's most important KPIs. Google Data Studio is a free tool that allows you to optimize reporting for website analytics up to the performance of your Facebook and AdWords campaigns.
If they have experience in Google Data Studio, it tells me that they probably used analytics with great depth and made company presentations about their conclusions. This is a big plus if the position requires them to be face-to-face with the customer or a senior executive.
5. Do you have data analysis skills?
I didn't realize how vital data analysis skills were. Ask about using SQL for better attribution. When I'm started with SQL, we noticed that the numbers we got from Facebook and Google Analytics were wrong. The only source of truth was the immersion in the internal database with SQL queries.
This allowed us not only to better identify authorship but also to develop more effective marketing experiments. For example, I used SQL queries to find out that our Facebook login couldn't handle the standard email capture on my landing page when measured down the funnel. Reason? Facebook emails were outdated, resulting in a low degree of educational openness.
If the candidate does not understand SQL, he should know at least Excel. Thanks to their knowledge of Excel or Google Sheet, they can more quickly clean up the data, perform spreadsheet analysis and index matching, which helps to combine the relevant data.
If a candidate doesn't even have a high level of understanding of Excel or Google Sheets, they won't survive as a fast-growing marketer.
6. Can you perform A/B and multivariate tests to optimize your marketing efforts?
Don't care how much traffic anyone can throw at a website. If traffic doesn't convert – it doesn't save. That's why you need testing tools like Omniconvert and Optimizely because rarely does traffic convert well on the first run. It often takes many iterations of a website before visitors engage. Then even more before they convert.
Iterations on landing pages mean changes in copy, images, and email capture pop-ups. Knowing how to test is equally as important as what you check. For example, if you're running a viral campaign while you're conducting A/B tests on a landing page to get sign-ups for the campaign, you'll get skewed results. The reason is at any time in the campaign you may experience an unusual uptick whether an influencer was sharing it or getting featured in a publication.
The best way to get reliable data when testing?
Paid traffic.
This often means advertising for Google AdWords and Facebook. By focusing on source-based traffic segmentation, it provides a better understanding of the situation. This way, you can make changes to your website with confidence.
Need some help?
You can reach me by filling this form. I'm increasing revenue for SMB and E-commerce via Social Media Marketing, Automation and Digital Funnels 🚀
7. How do you study the visitor's or user's interaction with your website?
Before you dive into audio-visual testing of your site, you need to capture a lot of low hanging fruits. You can see these features with a thermal map and tools that record the sessions of visitors and users. A growing marketer should mention tools like Hotjar, Crazy Egg and Full Story to help them do this.
With a couple of mouse clicks, you'll even realize that nobody connects to the initial call to your homepage, but rather to the help button in the top right corner.
8. Can you pull out the minimum viable test?
A fast-growing market specialist should understand, at a minimum, the suitability of testing to check the correctness of ideas. This means using landing page tools such as Unbounce, Instapage, and LeadPages, which allow you to tear out a page with a unique price offer in minutes.
This skill set can save you thousands of dollars by paying the designer and programmer to check the idea by creating a particular landing page. It also gives you the ability to run webinar or ebook campaigns without delay to take initiatives forward.
9. Can you build an automatic sequence that transforms and preserves?
In the acquisition equation, there are two halves. First, you need their contact information; then you have to take care of them until they pay. This can email content with appropriate value, SMS messages reminding you to jump to an educational webinar, or automatically adding them to your Facebook audience so that they receive a remarketing review.
If you need a highly convertible system, you need to automate marketing. This means that a fast-growing marketer needs to understand how to use tools such as Zapier, Integromat, Autopilot, Twilight, and Drips.
The sequence of marketing automation is also crucial for staff retention. Again, ideally, you use a series of email messages segmented by user type and SMS to ensure that they attend webinars.
Without marketing automation, even the best funnel will remain in complete disarray. Find marketers who can lock everything together.
10. Can you write a social copy that will appear?
A practical rule of thumb: if an emerging marketer cannot write exciting messages on social networks, there is little hope that he or she will be able to do so by email, on landing pages or even via SMS.
If they can write a long copy that appears as this status is lower, they have the potential to develop the skills needed to form an audience.
To get an idea of what this type of content looks like, follow the link below, where I wrote a free book describing 100 viral social messages.
What we have noticed is that the best marketing people write the best social media copies. This is not surprising, because copywriting is involved in almost all marketing materials. If you can't hone your skills? Then you may as well throw a funnel into the sewerage system.
11. How would you serve a journalist?
This is a rare ability to present ideas to journalists and receive positive feedback. Functions ranging from fan pages to publications and podcasts are valuable for novice users who need to establish trust and get their first wave of traffic on their website.
The art of giving ideas to a journalist depends on how well your message fits the journalist's past, how timely he writes, how true the current events are, what is plausible, what is the value proposition, and how well he writes the headlines. If a fast-growing marketer can provide you with on-demand functions with this skill set, they have made themselves an invaluable asset.
12. Can you lead the client to their first victory?
If the customer does not get the desired result from your product, he will leave. Many products, however great they are, are not intuitive. You need to hold them by the hand a little bit. Products like Hubspot even have their academy to help marketers learn how to use their platform.
A marketing agent experienced in creating user training programs and logged in with Appcues or even Loom software can provide a host of benefits in terms of staff retention. Keep in mind that a poorly adhesive product is often not a valuable product at all.
To do this, a fast-growing marketer must have the experience to help a new customer succeed with your product while setting the right expectations at every step.
13. Can you create a website or a Chrome extension?
Growing marketers need to be experienced in platforms, whether they're Shopify stores, WordPress themes or Chrome extensions. They need to have enough knowledge to rip something out and start selling after a day.
Even if that means outsourcing Chrome extensions, as I do:
If they don't understand how to build a platform or outsource it, they'll have a significant problem understanding how to bring it to market.
Follow me on Telegram
To get Growth Insights and Tutorials first 🚀
14. Have you built a strong presence on a public channel from scratch?
Those who have never created a robust social presence on the channel from scratch do not understand how much effort it takes. You often talk about hundreds or even thousands of hours of content production and distribution to expand your presence.
Having a marketer who understands the amount of work required to exert social influence will allow you to set the right expectations and then exceed them.
15. Have you come up with an original marketing tactic?
If you are going to hire a marketer with growing demand, they should be the solution. The best problem solvers can create original solutions, whether it's a new way to clean up a data set, extract data or run ads for a non-standard audience built from little-known locations.
If a marketer didn't point to the original solution he created, I wouldn't rely on them to solve your most complex problems.
16. What growth structure did you use?
There are many frameworks for growth. Most of them include some options for "costs, investments, expected results."
A more advanced option would look like this:
Purpose – what is the use of the experiment?
Hypothesis – what is the fundamental hypothesis of a successful experiment.
Designing the experiment – what stages do you think the test goes through?
Expected costs – money, marketing hours, product hours (it is essential to determine if developers and designers need to spend time).
The expected results are your hypothesis about the appropriate metrics.
The intestinal sentiment is rated on a scale of 1 to 5 (five points is the best), to what extent do you believe it?
Results – the actual results for the relevant indicators.
Insights – key points in the bold paragraphs. Be specific.
Next steps – what are the new actions this experience leads to?
If a fast-growing marketer has never used a growth framework, he or she cannot be expected to prioritize testing correctly. The concept of growth should be at the heart of all marketing activities from start to finish.
17. Can you create a Facebook ad, a message board presentation, and a landing page?
One of my favorites is a growing marketer who always has to rely on a designer before he starts working with live marketing material. You don't need a design from a world-famous artist before you post an ad on Facebook or a landing page. The reason is that the best plan does not always lead to minimal conversion costs.
Sometimes the worst projects lead to better conversion costs, which is surprising. Knowing this fact and being able to create an MVP design is critical for any marketer to survive in a world with constant A/B and multidimensional testing. As an example of presentations, we can cite a case that the candidate presented to us during the interview. If an emerging marketer can bypass the designer, you will be conducting more experiments, which ideally equals more grip on the road.
Be free to send me any feedback by reply or reach me in DM on Instagram
Do you want to receive insights using FB Messenger or Telegram or Email? 👈 Subscribe now.
Related posts